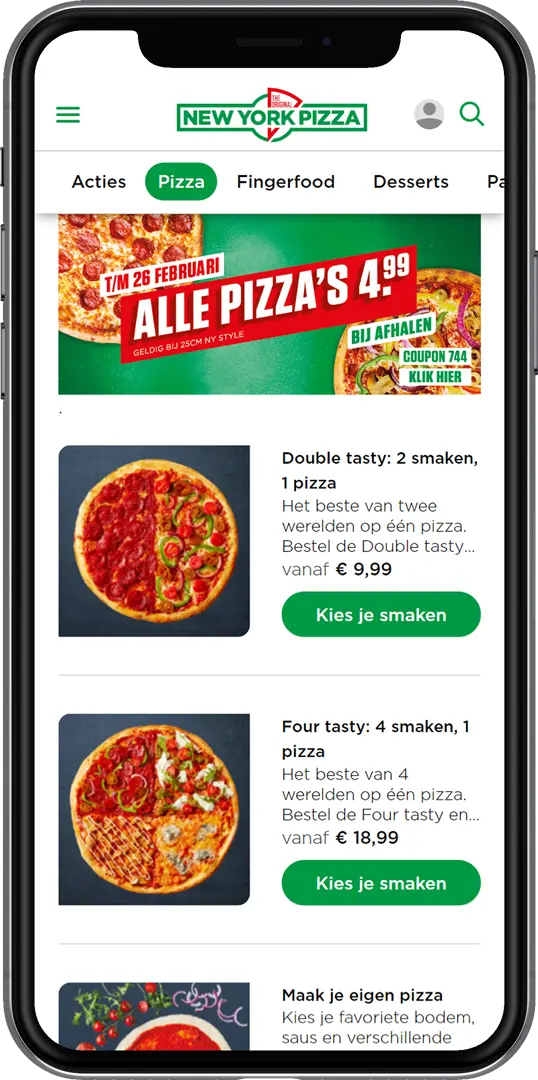 New york Pizza is a Dutch fast-food chain specializing in pizzas. From 170 to over 350+ stores in the Netherlands, Belgium and Germany. I was responsible for the Visual/UX Design of New York Pizza's digital marketing and sales channels.
New York Pizza has two platforms where they gain sales, the eCom site and an app which look different from each other. The goal is that eventually the different styles will come together.
Problem statement and goals
Due to the outdated design of the eCom site the company wants to move forward but keep in mind we can't make too many drastic changes not knowing how the existing clients will react. So my task is to see how to modernize and compare with the app version, to see which elements we could use for integration and A/B Testing.
Doing my research, thinking of best practices and with the help of a 3rd vendor we did many A/B-Testing on each segment of the eCom site. Which resulted in it looks less blocky & outdated and every component looks more like the app although it still looks more superior. Clients slowly liked it, got used to the interface and sales during peak hours even went up due to a better design.
I was responsible for the visual/ux design of New York Pizza's digital marketing and sales channels:

– Support the e-commerce team with the design of the website(s) and app(s)
– Ensures the timely delivery of digital creations and assets for the digital channels and campaigns.
– Work together with creative agencies and partners.
– Responsible for monitoring the (online) house style
– Contribute to the various customer journeys and ensure that the visitor reaches his goal in our digital channels.
– Part of the front-end/scrum team for development projects
– Elaboration of design within a multidisciplinary team.
New York Pizza | 2019 - 2020
Visual Designer, UX Designer
Food and Beverage Services
Got a project? Let's work together!
Like what you see, looking to start a project or just want to talk about an idea?