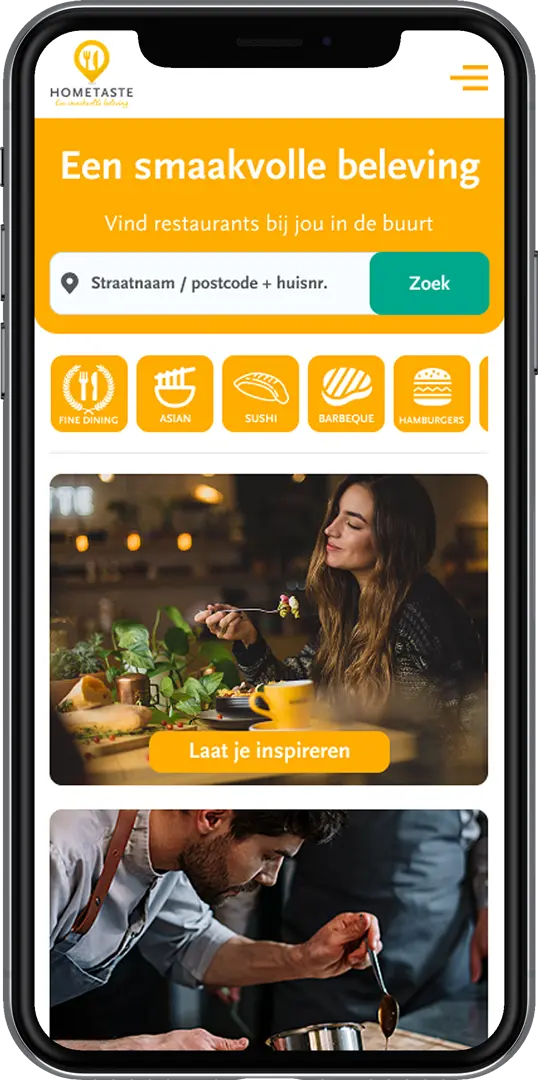 Rotterdam's unique food platform. Order food quickly and easily on a user-friendly food platform. Local food platform service in Rotterdam who wants to compete in an extremely competitive delivery market that is already dominated by existing platforms. Had the opportunity to be responsible for the UI/UX Design of HomeTaste.
HomeTaste targets a young audience and families. So UI wise it doesn't need to be re-invented. Did research of the current food delivery competitors, see how they present themselves, structured, what kind of interface and tooling they are using. Comparing them which is more user friendly, visually clear and less click-through so I can take the best practices for my own design.
Problem statement and goals
How does HomeTaste differentiate against these established competitors and compete with their popularity, network, product range and accessibility?
HomeTaste asks for a way lower fee than 30% and on the homepage I've highlighted the choice of restaurants, home kitchens and fine dining. The search bar you can fill in your location and get best search results and there's an easy-access icons that will refer you to all the same kitchens in your neighbourhood. We rolled out & tested the website and managed to have lots of restaurants joining us and have orders in the first months.
– Using guidelines to create designs and mockups. Design logic webflows and best practices for various customer journeys and ensure that the visitor reaches his goal in our platform.
– Support the development team with the designs of the website (desktop & Mobile)
– Ensures the timely delivery of digital creations and explain to stakeholders.
– Elaboration of design within a multidisciplinary team.
HomeTaste | Feb - Oct 2022
Food and Beverage Services
Got a project? Let's work together!
Like what you see, looking to start a project or just want to talk about an idea?