Graphic, Visual & Web Design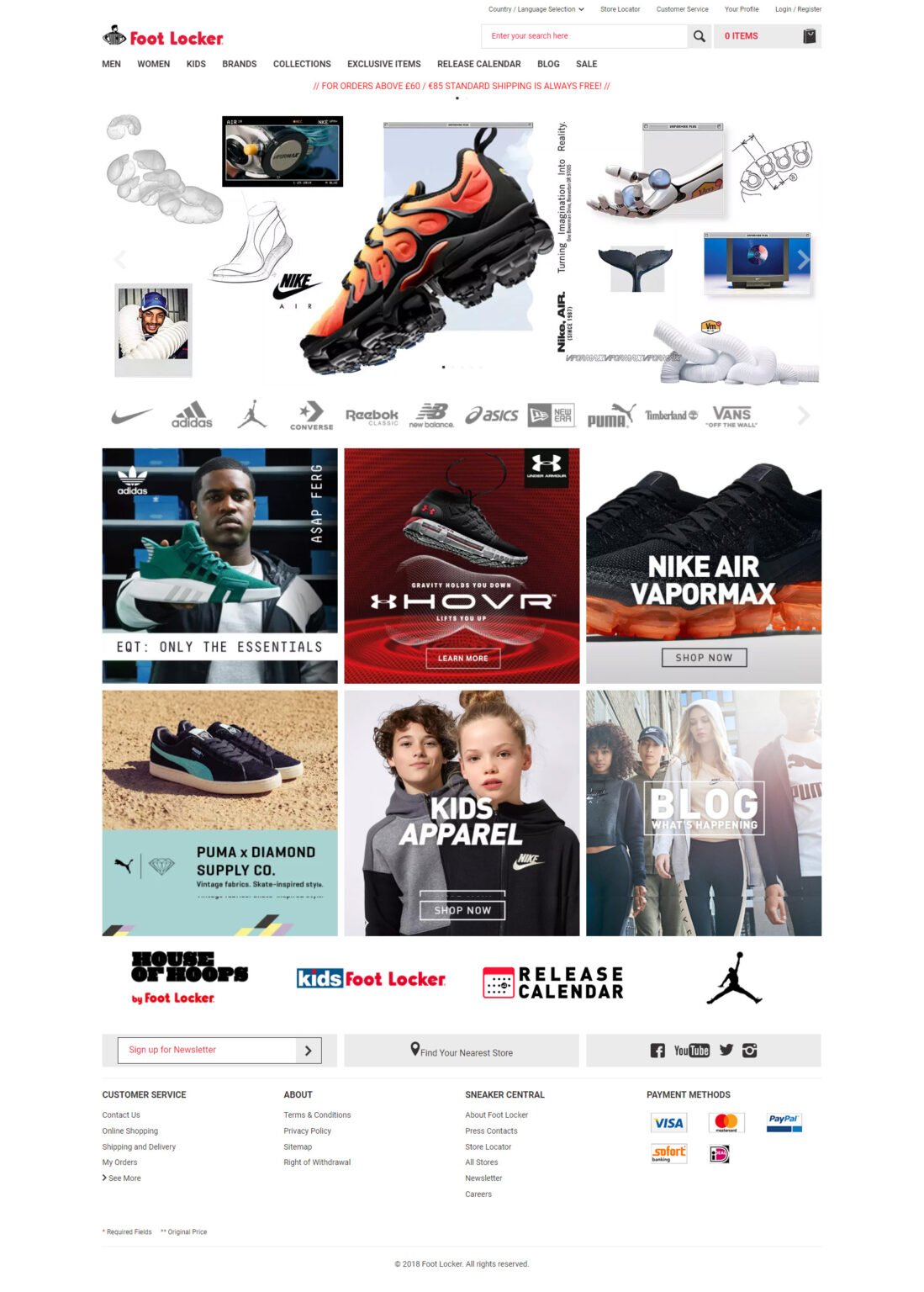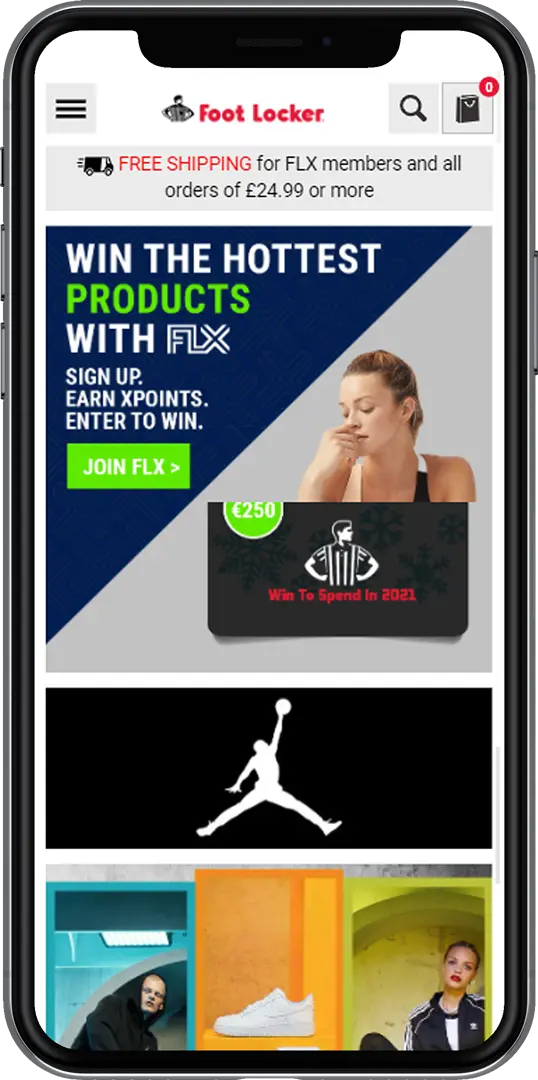 With more than 2500 stores across the world, Foot Locker is the leading global athletic footwear and apparel retailer. In 2011 we started with a small group setting up the eCom business in Europe. Build a webshop suitable for the European market with multi-lingual possibilities. 
Foot Locker is a traditional brick & mortar to sell their products so it was important to keep the same culture for our online platform. In the meantime I did a lot of research and tried to understand the footwear & apparel business. Had many meetings & conference calls with my colleagues at Eastbay (Wisconsin, USA) and with the European marketing department regarding the requirements. Together with my eCom team we discussed and defined which direction we wanted to go as an eCom business in Europe.
Problem statement and goals
The States had created a static Foot Locker UK page without any buy functionality so it wasn't very representable for a company like Foot Locker to sell products also it wasn't multi-lingual. Throughout the departments they didn't understand eCommerce so it was essential to educate stores, warehouse, buyers, merchandisers and planning the importance of eCom. I've noticed Foot Locker USA corporate identity is all black with red and white accents. Would I just copy the same style for the European market also?
After extensive research I've started to design mockups and presented them to my eCom team & marketing and decided that the best approach should be a clean white background so products are the main focus and banners will be more visible and appealing instead of behind a black background. During development we rolled out the UK, France, Italy, Germany and Netherlands first. 2nd roll-out Spain, Portugal, Greece, Belgium and Luxembourg. Currently they are also operational in Scandinavia and Asia Pacific. Along the way we tested and adjusted each page & functionality so it could be optimized for our sales.
According the 2021 global eCommerce net online sales were $25 million and footlocker.eu ranked globally #4912, Netherlands #69.  
Worked my way up from Graphic Designer, Coordinator Graphic Design to Supervisor Internet Graphic Design and my responsibilities were:
– Responsible for end-to-end assigned graphic design projects
– Including the layout of web pages and e-mails for Footlocker.eu
– Manages all phases of the web design process, including concept development, look and feel, execution, and content development
– Keeps a close relationship with our Foot Locker Studio, Warehouse ESC, German Partners Runners Point Group/Sidestep, Clients, Vendors, 3rd-parties
– Manages his/her team of Graphic Designers, Photographers assisting Foot Locker digital assets needs.
Foot Locker EMEA | 2011-2018
Graphic Designer, Coordinator Graphic Design, Supervisor Internet Graphic Design
Athletic footwear and apparel
Got a project? Let's work together!
Like what you see, looking to start a project or just want to talk about an idea?